Vilniaus dviračių maršrutai (2020 m.)
"Bicycle routes in Vilnius".  The official  map (2020)
front page – priekinis puslapis:
back page – galinis puslapis:
Download the map here: https://velovilnius.lt/wp-content/uploads/2020/08/Vilnius_dviraciai.pdf
this is a subpage of velovilnius.lt/vilnius-bikemap
Easy Leisure Cycling routes for everyone in Vilnius city
Is Vilnius a Cycling city?
Definitively not. But it could be worse.
On the one hand,  there is no consistent bicycle infrastructure or signing. Bikes paths still "end nowhere" or are made of two white lines, which pedestrians like to ignore …
On the other hand, Vilnius is very green city with plenty of forest and lakes around the city and even large Green areas close to the center (Vingis and Belmontas parks). In Summer time and out of the rush hours traffic is low compared to bigger cities in Europe.
So, despite of the sometimes lacking cycling infrastructure cycling is really fun in Vilnius.
In 2020 there's new free cycling map:  grab a paper copy in our office, in the tourism information offices in Vilnius or in most of the bike shops in Vilnius
There are 5 round routes (circuits) on the map, which can be combined (there are connected among each other)
Violet route

: To Pavilnys regional park (along Vilnelė river)

Orange route

: To Žverynas, the TV tower and Vingis park

Blue route

: Along both sides of Neris river.

Green route

: Round trip at Verkiai manor and Verkiai Kalvarija (Pilgrimage path with stations of the cross)
Red route: Round trip in Verkiai Regional Park (to the Green lakes)
https://www.google.com/maps/d/embed?mid=1pw6vWifqwDFToxSojruBNz5IEcI
Information on the former maps and route descriptions you may find at the end of this page
The routes are meant to be family friendly, offer nice views, avoid heavy traffic roads. You may choose version from 1-2 hours up to whole day trips.
The official map contains the following routes:
The Red Route: To the Green Lakes
The certainly most beautiful route in Vilnius.
First it follows the right (Northern) bank of the river Neris up to the Monastery of Trinapolis and to the Manor house and Nature park of Verkiai. There it leads you through the forests to the beach at lake Balsys.


Route information:

You may ride this route completely on bike and food paths, thus between Trinapolis and the Verkiai water mill the main road (no bike / foot path) is the much easier version.
detailed information here: (there's a link to come here) [1] To the Green Lakes and Europe Park

The Green route

: A round trip around Verkiai
The Blue route: along Neris river
The Orange Route: To Vingis Park and the TV tower
This route opens the Vilnius "beyond the Old town" to you.
See the Wooden houses in Žvėrynas, enjoy the views from the TV tower and visit Vingis park, the " Central park" of Vilnius.


Route information:

From Lazdynai to Vingis park you can ride on side walks  but there is no full bike path
detailed information here: (there's a link to come here) #3 Vilnius cityring

#  9 Big city circuit / Freedom fighters' tour

Soviet Vilnius
Route to Belmontas
the spectacular views on and from Pučkoriai cliff makes this area one of the hidden treasures of Vilnius. And it's just an half hour ride away from the city center.
more  information here: # 5 Belmontas / Pavilnio regioninio parko žiedas
---
(Violet route) Belmontas Route

Recommended direction:
Katedros a.–Šventaragio slėnis– along Vilnia river–Šv. Brunono Bonifaco g.–Maironio g.–Aukštaičių g.–
Vilnios takas–Manufaktūrų g.– bridge over Vilnia river –Belmonto g.–Pūčkorių path –Tuputiškių g.–Pavilnio g.–Subačiaus g.–
Didžioji g.–Pilies g.
Level: medium
This route connects you to one of the most beautiful nature places in Vilnius – in the beginning you follow the valley of Vilnia river, reach the waterfalls of Belmontas, take a look on Pūčkorių cliff / steep wall from below. You come back to the city through Pavilnis and  Markučiai, places in Vilnius City that more likely have a village flair. Here you'll find not only an hilly landscape and beautiful views but also a park and an old manor house which hosts a museum dedicated to the family of famous Russian poet  Aleksandr Puškin.
Sights:
1 Vilnius cathedral, Katedros a. 1
2 Šventaragio slėnis, 54.685709, 25.290378
3 Užupis, 54.680662, 25.295229
4 Tymas market, 54.678963, 25.294755
5 Belmontas watermill, Belmonto g. 17
6 Pūčkoriai cliff, 54.692349, 25.352925
7 Markučiai manor and gardens, Subačiaus g. 124
8 Subačius view point , 54.677473, 25.301221
9 Vilniaus rotušė / Old town hall, Didžioji g. 31
Pictures from the route to Belmontas
---
(Blue route) Route at river Neris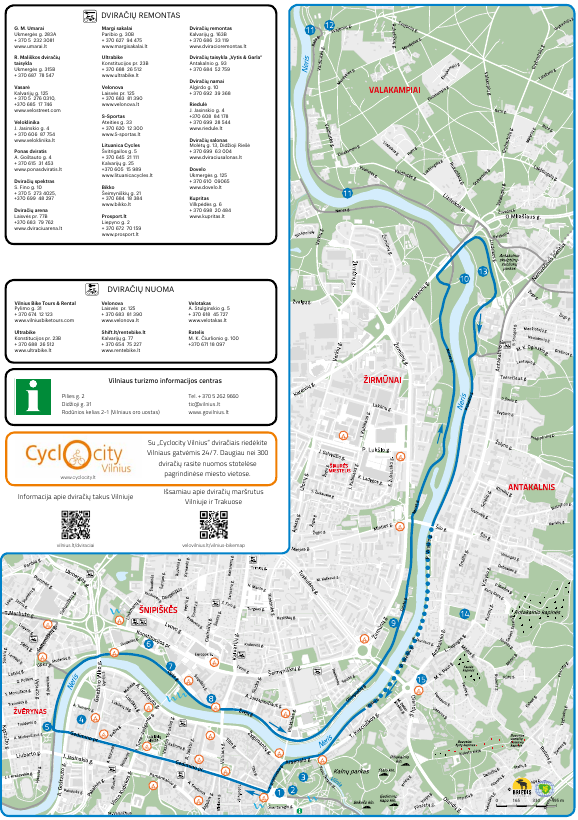 Distance: 15 km
Recommended direction: Katedra/ Cathedral sq. –Gedimino pr. – Žvėrynas bridge – right bank of Neris  – Upės g. – Žvejų g. – Olimpiečių g.–
Neries g. – Kareivių g. bridge – bicycle path via  Spalvotųjų šaltinių ("colorful springs") park–P. Vileišio g.–Sluškų g.–T. Kosciuškos g.– Arsenalo g.–T. Vrublevskio g.
Comment: There is a bicycle-pedestrian path along the Neris to the beaches of Valakampiai (no need to ride the road ).
Level: very easy
This route embraces the Neris on both of its banks and aims to those who want a completely easy ride. On this route you may find even three beaches, Sapiegų park, which hides the oldest birch tree in Vilnius and the "colorful springs" in Antakalnis. Due to the lack of a fence, we do not recommend to ride close to river with small children.
Sights:
1 Vilnius cathedral, Katedros a. 1
2 "House of the Lords" / Lietuvos Didžiosios Kunigaikštystės valdovų rūmai, Katedros a. 4
3 Gediminas castle tower, Arsenalo g. 5
4 The Parliament / Lietuvos Respublikos Seimas, Gedimino pr. 53
5 Russian church "Sign of the Divine Mother from Heaven" / Švč. Dievo Motinos Ženklo iš dangaus cerkvė, Vytauto g. 21
6 National Art Gallery / Nacionalinė dailės galerija, Konstitucijos pr. 22
7 Monument to Chihune Sugihara / Čijunės Sugiharos paminklas, 54.695059, 25.273102
8 Church of Holy Archangel Raphael / Šv. arkangelo Rapolo bažnyčia, Šnipiškių g. 1
9 Tuskulėnai park and memorial (mass grave) / Tuskulėnų rimties parko memorialinis kompleksas, Žirmūnų g. 1F
10 Beach / Žirmūnų paplūdimys, 54.723074, 25.312014
11 Beaches / Valakampių paplūdimiai (1 ir 2), 54.730774, 25.299204; 54.743261, 25.292595
12 Art center / Kūrybinių industrijų centras "Pakrantė", Vaidilutės g. 79
13 Park of the Colorful Springs / Spalvotųjų šaltinių parkas, 54.724180, 25.314310
14 Park and Palace / Sapiegų parkas ir rūmai, Antakalnio g. 17
15 Church of the Apostles Peter and Paul /  Šv. apaštalų Petro ir Povilo bažnyčia, Antakalnio g. 1
---
(Green route) Verkiai route
Distance: 7 km
Recommended direction:
from Verkiai manor: Žaliųjų Ežerų g.–Jeruzalės g.–
Maldininkų g.– Verkiai pilgrimage path to monastary  Trinapolis–
Verkių g.– Watermill– Verkiai manor
Level: medium
This route brings you through the pilgrimage path of  Vilnius kalvarija, visited by pilgrims from around the world, to Verkiai manor and park, it's impressive view point.
On your way you may pay a visit to the former Verkiai water mill (now a restaurant) and the monastery of  Trinapolis.
Sights:
1 Verkiai manor, Žaliųjų Ežerų g. 53
2 Costusm museum / Muitinės muziejus, Jeruzalės g. 25
3 Church of the Cross / Vilniaus Šv. Kryžiaus Atradimo (Kalvarijų) bažnyčia,
Kalvarijų g. 327
4 Verkių kalvarija, 54.729669, 25.284934
5 Trinapolis monastery, Verkių g. 70
---
(Red route) Green Lakes Route
Distance: 18,5 km
Recommended direction:
From  Verkiai manor:  bicycle path along  Žaliųjų Ežerų
Street, afterwards through the forest to Gulbinų g. and the beaches at the Green lakes. Žaliųjų Ežerų g.–Užpalių g.–Kryžiokų g.–
Verkių g.–Verkių malūno kelias–Verkiai manor.
level: medium
This route leads you through Verkiai regional park. Here you can visit Verkiai manor, pass
Staviškes castle mound, reach the landscape reserve of the green lakes. The best place for a relaxation is the beach at lake Balsys.
Sights:
1 Verkiai manor, Žaliųjų Ežerų g. 53
2 Beach at the Green lakes / Žaliųjų ežerų paplūdimys, 54.787637, 25.334264
3 Shopping center with bike pump track / Prekybos ir paslaugų centro "Žali" velotrasa,
Visalaukio g. 1
4  castle mound Staviškių piliakalnis, 54.760636, 25.346356
Distance: 16 km
---
(Orange route) To the TV tower and Vingis park
Distance: about 20 km
Recommended direction: Vilnius Cathedral – Gedimino pr.–Žvėrynas bridge – turn right along river Nerį– Upės g.– Saltoniškių g.–Narbuto g.– turn left to the "path alongside Forest" /  Miško pakraščio takas –Sausio 13-osios g.–Architektų g.–Laisvės pr.–Lazdynų tiltas– left on
Eigulių g.–Geležinio Vilko g.–Taikos al.– Estrados al.–M. K. Čiurlionio g.–K. Kalinausko g.–Palangos g.–Vilniaus g.–Vokiečių
g.–Rūdninkų g.–Visų Šventųjų g.–Bazilijonų g.–kairėn Aušros Vartų g.–Didžioji g.–Pilies g.
Level: medium
On this route You may visit: The lovely Old town, the wooden archtecture in Žvėrynas, the special urban monument of Lazdynai (a settlement awarded in Soviet times). And from Karoliniškės landscape reserve there are impressive views onto the city centre. 
Remark. Between Lazdynai and Vingis park you mainly have to ride on the side walk together with pedestrians (there is no separate bike path :(.
Sights:
1 Vilnius cathedral, Katedros a. 1
2 Museum of occupations and freedom fights (KGB museum), Aukų g. 2A
3 The Parliament / Lietuvos Respublikos Seimas, Gedimino pr. 53
4 Landscape protection area Karoliniškės / Karoliniškių kraštovaizdžio draustinis, 54.695379, 25.232832
5 TV tower, Sausio 13-osios g. 10
6 "Fairy tale park" / Pasakų parkas, 54.681811, 25.202908
7 Cliff Plikakalnis / Plikakalnio atodanga, 54.684874, 25.223813
8 Vingis park / Open-air stage, 54.682920, 25.237622
9 Russian church of Holy Constantine and Michael, J. Basanavičiaus g. 27
10 Frank Zappa Monument, 54.683035, 25.276033
11 St. Catherine's  church, Vilniaus g. 30
12 The Gates of Dawn, Aušros Vartų g. 12
13 The Old Townhall / Vilniaus rotušė, Didžioji g. 31
Pictures from the route:
---
GREY routes (Kairėnai, Trakai, Paneriai …) – extra routes
These are the routes that didn't make it on the map this time, but the directions are indicated on the map and you can find an online version (description with map)
To Kairėnai Botanical Gardens and the beaches in the North East
This route leads you along the left (Southern) bank of Neris river up to beaches in Valakampiai and at the lakes Šilas, Tapeliai, Balžis, Antavilis.  Nature lovers can visit the Botanical Gardens in Kairėnai.
This route lacks the more spectacular views of the other two routes, but is popular among the residents of Vilnius for the beaches in Summer, mushroom and berry picking in Autumn.


Route information:

Parts of the are on-road (no foot paths).  It can well be combined with Route No. 1 by riding up the river on side and coming back the other. In Summer there  is a ferry called "Uperis" at Valakampiai that brings you directly to the water mill of Verkiai and lets you avoid the busy or difficult parts on other side of the river.
detailed information here: (there's a link to come here) #7 Kairėnai ir Tapėlių / Šilo lakes
Route to Paneriai
deep forests hide a former Soviet military base, an old railway tunnel and a mass grave from WW II with mainly the Jews of Vilnius. 
more  information here: #8 Paneriai Memorial

Routes to Trakai
one of the highlights in Lithuanian is the medieval water castle of Trakai – the biggest in Eastern Europe – and there
are two options on how to go by bicycle there are three main cycling routes around the lakes in Trakai 
more  information here: velovilnius.lt/trakai
---
Here's an online version of the map / google map  (choose the layers of the map to see the information separately) :
More easy leisure cycling routes for everyone (eg. with family, for sightseeing, how to get to the lakes etc.)
Seperate route descriptions for Vilnius Leisure Cycling Routes
Download gpx-file
/wp-content/uploads/gpx/Visi ziedai ir alternatyvos.gpx
(click right mouse button and "download link as …")

---
Older overview maps and extra routes (click to open)
Here the first overview of the planned routes on the 2020 Map:

Vilnius Bike Map 2020 – overview
Overview map – Überblickskarte – Apžvalginis žemėlapis – Vilnius Bike Map 2018
A choice of Routes for Independent Cycling in and around Vilnius
Interactive map of Vinius bicycle routes: http://www.gpsies.com/mapFolderOnly.do?id=1908   Number are of cause only for orientation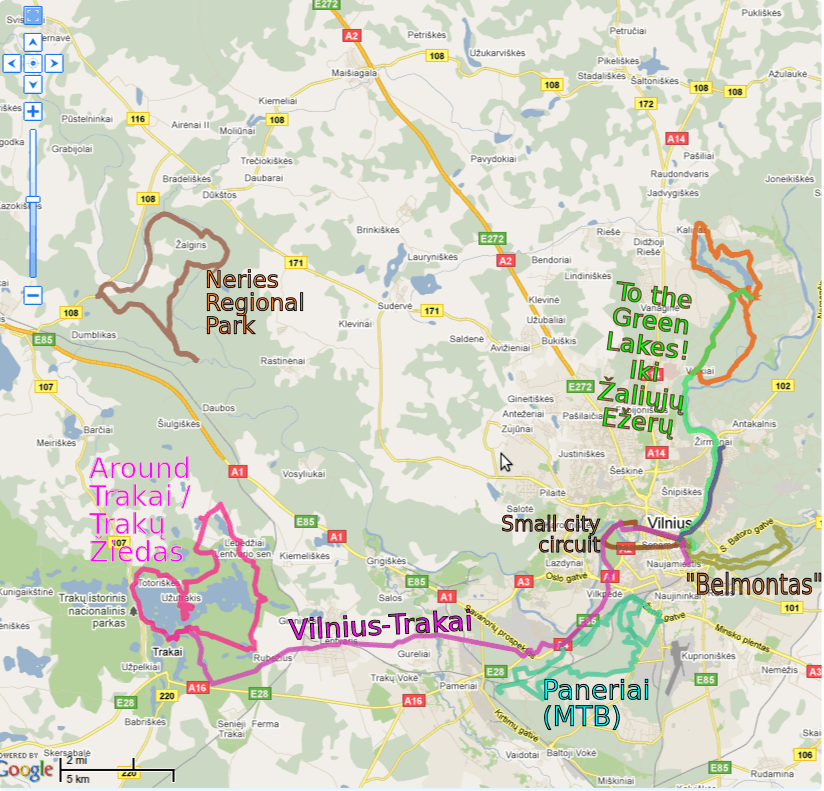 interaktyvus maršrutų žemėlapis / Interactive route map / Karte mit schönen Fahrradrouten in, um und aus Vilnius: 
http://www.gpsies.com/mapFolderOnly.do?id=1908 
---