Route at river Neris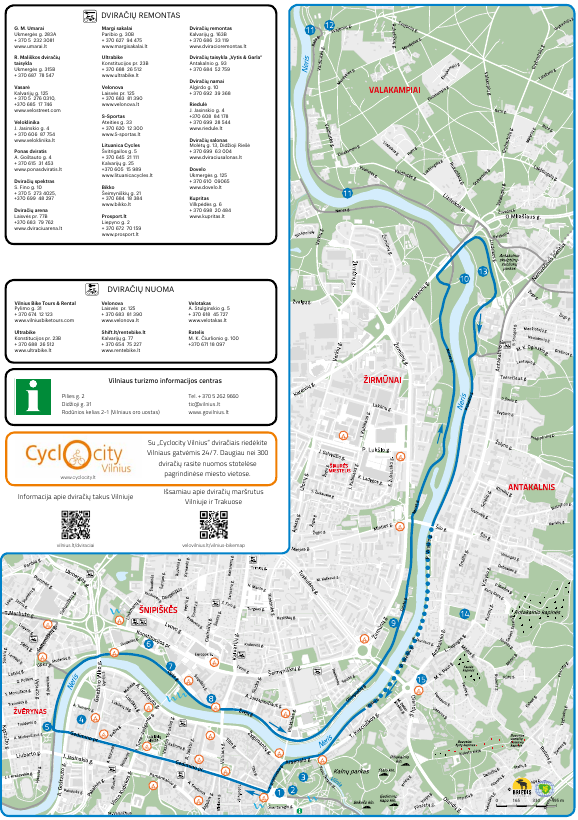 Distance: 15 km
Recommended direction: Katedra/ Cathedral sq. –Gedimino pr. – Žvėrynas bridge – right bank of Neris  – Upės g. – Žvejų g. – Olimpiečių g.–
Neries g. – Kareivių g. bridge – bicycle path via  Spalvotųjų šaltinių ("colorful springs") park–P. Vileišio g.–Sluškų g.–T. Kosciuškos g.– Arsenalo g.–T. Vrublevskio g.
Comment: There is a bicycle-pedestrian path along the Neris to the beaches of Valakampiai (no need to ride the road ).
Level: very easy
This route embraces the Neris on both of its banks and aims to those who want a completely easy ride. On this route you may find even three beaches, Sapiegų park, which hides the oldest birch tree in Vilnius and the "colorful springs" in Antakalnis. Due to the lack of a fence, we do not recommend to ride close to river with small children.
Sights:
1 Vilnius cathedral, Katedros a. 1
2 "House of the Lords" / Lietuvos Didžiosios Kunigaikštystės valdovų rūmai, Katedros a. 4
3 Gediminas castle tower, Arsenalo g. 5
4 The Parliament / Lietuvos Respublikos Seimas, Gedimino pr. 53
5 Russian church "Sign of the Divine Mother from Heaven" / Švč. Dievo Motinos Ženklo iš dangaus cerkvė, Vytauto g. 21
6 National Art Gallery / Nacionalinė dailės galerija, Konstitucijos pr. 22
7 Monument to Chihune Sugihara / Čijunės Sugiharos paminklas, 54.695059, 25.273102
8 Church of Holy Archangel Raphael / Šv. arkangelo Rapolo bažnyčia, Šnipiškių g. 1
9 Tuskulėnai park and memorial (mass grave) / Tuskulėnų rimties parko memorialinis kompleksas, Žirmūnų g. 1F
10 Beach / Žirmūnų paplūdimys, 54.723074, 25.312014
11 Beaches / Valakampių paplūdimiai (1 ir 2), 54.730774, 25.299204; 54.743261, 25.292595
12 Art center / Kūrybinių industrijų centras "Pakrantė", Vaidilutės g. 79
13 Park of the Colorful Springs / Spalvotųjų šaltinių parkas, 54.724180, 25.314310
14 Park and Palace / Sapiegų parkas ir rūmai, Antakalnio g. 17
15 Church of the Apostles Peter and Paul /  Šv. apaštalų Petro ir Povilo bažnyčia, Antakalnio g. 1
---
Verkiai route
Distance: 7 km
Recommended direction:
from Verkiai manor: Žaliųjų Ežerų g.–Jeruzalės g.–
Maldininkų g.– Verkiai pilgrimage path to monastary  Trinapolis–
Verkių g.– Watermill– Verkiai manor
Level: medium
This route brings you through the pilgrimage path of  Vilnius kalvarija, visited by pilgrims from around the world, to Verkiai manor and park, it's impressive view point.
On your way you may pay a visit to the former Verkiai water mill (now a restaurant) and the monastery of  Trinapolis.
Sights:
1 Verkiai manor, Žaliųjų Ežerų g. 53
2 Costusm museum / Muitinės muziejus, Jeruzalės g. 25
3 Church of the Cross / Vilniaus Šv. Kryžiaus Atradimo (Kalvarijų) bažnyčia,
Kalvarijų g. 327
4 Verkių kalvarija, 54.729669, 25.284934
5 Trinapolis monastery, Verkių g. 70
---
Green Lakes Route
Distance: 18,5 km
Recommended direction:
From  Verkiai manor:  bicycle path along  Žaliųjų Ežerų
Street, afterwards through the forest to Gulbinų g. and the beaches at the Green lakes. Žaliųjų Ežerų g.–Užpalių g.–Kryžiokų g.–
Verkių g.–Verkių malūno kelias–Verkiai manor.
level: medium
This route leads you through Verkiai regional park. Here you can visit Verkiai manor, pass
Staviškes castle mound, reach the landscape reserve of the green lakes. The best place for a relaxation is the beach at lake Balsys.
Sights:
1 Verkiai manor, Žaliųjų Ežerų g. 53
2 Beach at the Green lakes / Žaliųjų ežerų paplūdimys, 54.787637, 25.334264
3 Shopping center with bike pump track / Prekybos ir paslaugų centro "Žali" velotrasa,
Visalaukio g. 1
4  castle mound Staviškių piliakalnis, 54.760636, 25.346356
Distance: 16 km
 Maps
.To the Green Lakes of Verkiai . .and the " Centre of Europe " sculpture park .
.General presentation:.
Well known to the residents of Vilnius – but almost unknown to the stranger – is the Nature park of Verkiai. Here you can breathe the impression of Lithuania's wild nature: Forests and picturesque lakes welcome you. And it's all within the city borders.That's a quite common surprise in Vilnius: Once you are in a residential area, then you turn and find yourself in a forest or a river valley. In fact the hilly city conditions make many city territories only few habited. – and, as you may think now, as fact cycling not always easy. Thus a new bicycle path leads almost up to the Green lakes, the ups and downs make the route interesting for all kinds of cyclists, only their speed might differ … Cycling starts on the bicycle path along the river Neris
which will lead you to the . Monastery of Trinapolis There you have to follow 1 ½ km the road until you come to the . famous Water Mill of Verkiai If you take the road right before the mill, it will take you safely and traffic free up to Verkiai manor house where you should enjoy the view point and be estonished how many forests you may find within the city.
Turning the manor house the back and passing the former horse stables will bring you to the road. On the other side a bicycle path is starting. Soon, it gets away from the road and lead you directly to the lake.
There you may have a snack or/and go swimming in .the impressive "Green lakes" If you are more thirsty for culture we recommend you to go some km ahead – to Europos Parkas
a museum in the nature of 55 ha size which goal is "to give an artistic significance to the geographic centre (as determined by the French National Geographic Institute in 1989) of the European continent and to present the best of Lithuanian and international modern art achievements." The bad news is that probably you will have to cycle all the way back. We recommend an a bit alternative way via the former Verkiai paper mill Sportive cyclists may cycle ahead to the town of Nemenčine and take the bicycle path (it is not in the best condition) from there back to Vilnius city .
More information.
www.pavilniai-verkiai.lt www.europosparkas.lt The tour may vary from about 30km all together – which is an easy distance even for all inexperienced cyclists – up to 60km if you choose the long route via Nemenčinė. Anyhow it will take you the whole day to make it
Sites .on .the .

route
Neries river valley
Tuskulenai memorial (Soviet mass grave)
Monastery Trinapolis
Kalvarija (partly)
former Verkiai water mill
Verkiai manor house and viewpoint
the green lakes (Balsys)
Old Verkiai paper mill
Shops .& .

catering
Restaurant at Verkiai water mill
Restaurant " šernas " (wild boar) at the lake – working irregularly depending on the weather
Restaurant at the road (Lithuanian cuisine)
Kiosks
Restaurant at " Centre of Europe " park
Maxima small supermarket
.Žemėlapiai:.    Connection from Lake Balsys to the Centre of Europe Sculpture park (http://www.europosparkas.lt)
Route description as pdf:
http://velovilnius.lt/wp-content/uploads/2016/06/dviraciu_turizmas_EN_route1-Zalieji-Ezerai.pdf
---