in Klaipeda

conditions: city tour only by request

Stadttour nach Anfrage (beliebt z. B. bei Kreuzfahrttouristen)
Litauische Küste / Lithuanian Coast:
Klaipeda (Memel), Palanga, Kurische Nehrung
 BALTIC BIKE TRAVEL
Bicycle Rental
Naujoji Uosto g. 3, KLAIPEDA/Memel (bei der Alten Fähre auf die Kurische Nehrung)
Lithuania / Litauen
Working hours:
Office: Mo.- Fr. 9-18,
Rental point: May-Sep. Mo.- So. 9-22, Oct.-Apr. Mo.-Fr. 9-18, other time on request
Contacts:
Mobile Tel.: +370 615 91773
E-mail: rent @ bicycle.

lt




Contact person: Saulius Ruzinskas (Mr.)
| | |
| --- | --- |
| Images of the rental point in Klaipeda | Bilder der BaltiC Cycle Partner "Baltic Bike Travel" Fahrradverleihstation in Klaipeda (ehem. Memel Stadt) |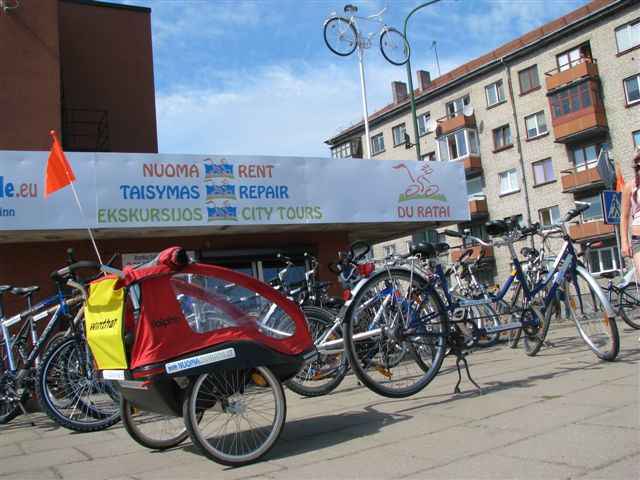 …
BALTIC BIKE TRAVEL Ltd., partner company of the BaltiCCycle Network, offers rental of quality bicycles and tourist equipment in KLAIPEDA for excursions and cycle tours along the Lithuanian Seaside Cycle Route / Kuestenradweg Litauen and the Baltic States – Lithuania (LT), Latvia (LV), Estonia (EE) and around. Similar services are offered by the BaltiCCycle partner companies in Vilnius (LT), Riga (LV) and Tallinn (EE).
Get a bicycle in Lithuania and leave it in Latvia or Estonia, or otherway round!  BaltiCCycle is the only network in the Baltics offering such one-way bicycle rental service!
For your choice in Klaipeda (Lithuania) there are good quality PANTHER (Lithuanian) and KALKHOFF (German) trekking / hybrid bicycles and tandems, BROMPTON foldable bicycles (English), MOSKINO e-bikes/pedelec (Italian), WINTHER tricycle (Danish), Kangaroo, and 2-wheel trailers for children, BOB cargo trailers (American), trailer-bikes and child seats, ORTLIEB (German) waterproof panniers and handlebar bags:
TREKKING / hybrid bicycles with 28″ size double-rim wheels and
21/24-speed derailleur gears (PANTHER Rasant & KALKHOFF Agattu 24G Shimano Deore) or
7-speed internal-hub gears & back-pedalling brake (PANTHER Orion & KALKHOFF Jubilee 7G Shimano Nexus);
CITY bicycles with 28″ size wheels & 3-speed internal-hub gears and back-pedalling brake (PANTHER Sophy / Arthur)
TANDEM bicycles (PANTHER Curve with 5-speed SRAM hub gears / Mixte with 24-speed Shimano DEORE derailleur gears)
MTB bicycles with 26″ size wheels & 24-speed derailleur gears;
E-BIKES (Pedelec) – MOSKINO
BEACH CRUISERS, CHOPPER style, BROMPTON foldable, etc.
Children bicycles  with 24″ size wheels & 3-speed hub gears (PANTHER Jockey-Alu)
Tricycle KANGAROO for local travels of 1 adult +2 children (up to 100 kg in total);
Trailers DOLPHIN or similar for travels with 1-2 children from 6 months up to 5 years old;
One-wheel trailer-bike for travels with children from 5-10 years old;
Cargo trailers BOB YAK for touring around the Baltics with up to 32 kg of luggage (suitable for bicycles with wheels' quick release system)
Both, trekking and MTB bicycles, are equipped with front suspension fork and aluminium frame. There are ladies'/unisex and standard trekking bicycles with a transverse bar, most of them equipped with bottle cages, back racks for panniers and lamps with dynamo.