Bicycles and other items for sale at the moment
(for more details read below)
---
For the support of the cycling culture we are selling
a) used but good quality bicycles; we sell them with bike pass and guarantee.
All bicycles are legal and technically in a good shape (repaired before sale)
b) maps and descriptions for cycling. You may purchase them in the branches of velo-city or use our web shop for sending http://shop.balticcycle.eu (in English and German)
Since March 2016 you can find us at our new adress: Pylimo st. 31, Vilnius (not far from the Synagogue)
---
"LONG-TERM RENTAL"
For foreigners living temporary in Vilnius we have the special offer that within 12 month you can hand the bicycle back to us and we give to up to 50% of the price back (according to the bike's condition)
Tel. 8 674 12 123
---
As we don't have many bicycles for sale at the moment we recommend the only bike shop which (as we know) is selling used bicycles (not to cheap, but not to bad)
https://www.facebook.com/broliustudija/
---
Special price breakers in Autumn 2017:
Super cheap – bicycles for under 100€
aist
€99 Soviet "Sport Tourist" – refurbished
6 gears, 2 brakes, we give a U-lock and flash lights FOR FREE
---
…. more super-bikes for under 200€
CR444
€ 199 Panther CR444 Hybrid bicycles with hydraulic disc brakes and lights
from €170 each – Mountain and hybrid bicycles with small frames
€399 --- Italian Road Bike Pinarello Angliru, 54 cm frame, Campagnolo VELOCE components
€199 --- Merida Crossway, high quality hybrid bikes from 2016
(Almost) new bicycles
bought at the beginning of the 2016 season
Merida Crossway 20
Light hybrid bicycles
available  frame sizes (in cm):
male: 61, 58 (disc brakes), 52, 50, 46, 44, 41 cm
female: 54, 46, 44, 42 cm
€199 (without luggage rack and lock)
€399 ---- Electric bicycles
ALU-REX ir Pegasus
€499
7 gears. from Germany.
New batteries!
Važiuok su vejėliu!
Gaukite elektrinį dviratį už paprasto dviračio kainą
Geros kokybės vokiški elektriniai dviraičai su 7 vidinėmis pavaromis ir šviesa. Variklis priekiniame rate
Mes šviežiai atnaujiname akkumulatorius
(ir kiekvienas akkumulatorius pats jau kainuoja po €300!)
from €170 --- Mountainbikes (MTB)
5 Mountainbikes for Sale (used but in good conditions, from the bike rental):
Merida BIG NINE 20, from 2016, 29er wheels, 17″ Frame, Hydraulic Disc brakes (Decipher), Shimano Acera Components
€349
Merida MATTS 20,from 2015, 26″ wheels, 20″ Frame, Mechanic Disc Brakes, Shimano Acera components,
€199
Merida MATTS,  from 2016, 26″ wheels, 18″ frame, Shimano Altus Components
€199
Merida MATTS,from 2016, 26″ wheels, 22″ frame, Shimano Altus Components
€199
Special bikes
Chopper Bike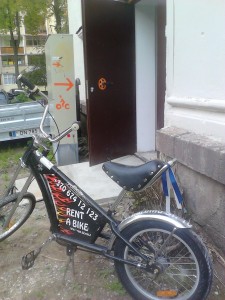 ---
Universal Holder to carry three bicycles on a car.  €10
---
---
---
Detalės / Used bike parts