Bicycles and other items for sale at the moment
(for more details read below)
But you're welcome to use our longterm rental offer (see below)
---
For the support of the cycling culture we are selling
a) used but good quality bicycles; we sell them with bike pass and guarantee.
All bicycles are legal and technically in a good shape (repaired before sale)
b) maps and descriptions for cycling. You may purchase them in the branches of velo-city or use our web shop for sending http://shop.balticcycle.eu (in English and German)
Since March 2016 you can find us at our new adress: Pylimo st. 31, Vilnius (not far from the Synagogue)
Tel. 8 674 12 123
---
"LONG-TERM RENTAL"
For foreigners living temporary in Vilnius we have the special offer:
You can buy a used bicycle from us;
We guarantee that within 12 month we buy it back for up to half the price (according to the bike's condition, less if there  ),  so the price will  50%
That's the best deal for everybody.
You may find somebody who will give you more afterwards, you are responsible for damages and theft by yourself
We sell safe U-locks for 10€, Steel chain locks (Trelock) for 20€
---
Bicycles available at the moment
with the chance of getting 50% back later 
here are some used bikes from the bicycle rental  for a very good price 🙂
) KTM Happy, Vintage city bike, 3 gears, lights, 140€, (€70 in the long term rental scheme)
) ROMET VINTAGE (white),

€200 (€100 in the long term rental scheme)


super pleasant city bicycles with basket in the front! 6 gears, lights
) ROMET Gazela 2, 260€  (€130 in the long term rental scheme)
21 gears, Shimano Acera, Inner hub dynamo lights, luggage carrier
) ROMET RAMBLER MTB, 220€ (Medium/Small frame) (€110 in the long term rental scheme), 21 gears Shimano
) ROMET JOLENE MTB, 200€ (€100 in the long term rental scheme)
2 small frames, 21 gears Shimano
) ROMET ORKAN, Hybrid,  260€ (€130 in the long term rental scheme)
Taller frames, 21 gears, Shimano, Disc brakes
) Merida Crossway 20 (black color),

€240 (€120 in the long term rental scheme)- there is only two left, one male, one female frame 

) Merida BIG NINE 20, from 2016, 29er wheels, 17″ Frame, Hydraulic Disc brakes (Decipher), Shimano Acera Components, 290€
) Save quality U-locks for only 10€ !
---
€280 & 380 —- Electric bicycles
7 gears. from Germany.
New batteries!
Važiuok su vejėliu!
Gaukite elektrinį dviratį už paprasto dviračio kainą
Geros kokybės vokiški elektriniai dviraičai su 7 vidinėmis pavaromis ir šviesa. Variklis priekiniame rate
Mes šviežiai atnaujiname akkumulatorius
(ir kiekvienas akkumulatorius pats jau kainuoja po €300!)
E-Bikes for Sale
---
Where to find a Used Second Hand Bicycle in Vilnius?
Where else to find a used second hand bicycle in Vilnius?
As we don't have many bicycles for sale at the moment the only thing we can recommend is to look on the Lithuanian internet portal "skelbiu.lt" under =>transportas => dviračiai (bicycles)
https://www.skelbiu.lt/skelbimai/transportas/dviraciai/
Sometimes foreigners who are only here for a short period of time 🙂 offer their bikes on the Facebook group "Foreigners in Vilnius" (has now over 10.000 members)
---
sold out - might come back later - see long term rental
) Baltik Vairas (green),€200 (€100 in the long term rental scheme)
9 gears touring bicycle with battery lights
€99 Soviet "Sport Tourist" – refurbished
6 gears, 2 brakes, we give a U-lock and flash lights FOR FREE
 Titanbikes Cargo (white), €190
26″ front, 28″ rear, Shimano Nexus 7, lights, 190EUR
Super cheap – bicycles for under 100€
€50 AIST
1 gear, 1 brake, no lights (we provide you with reflectors)  – without advertising 🙂
---
…. more super-bikes for under 200€
€ 199 Panther CR444 Hybrid bicycles with hydraulic disc brakes and lights
---
Italian Road Bike Pinarello Angliru
---
MTB
4 Mountainbikes for Sale (used but in good conditions, from the bike rental):
Merida BIG NINE 20, from 2016, 29er wheels, 17″ Frame, Hydraulic Disc brakes (Decipher), Shimano Acera Components
€349
 for 200-240€
Romet RAMBLER ,from 2018, 26″ wheels, Medium Frame, Mechanic Disc Brakes, Shimano Acera components,
Romet Jolene,  from 2018, 26″ wheels, Medium frame, Shimano Acera? Components
Romet Jolene,from 2018, 26″ wheels, Small frame, Shimano Acera Components
Special bikes
Chopper Bike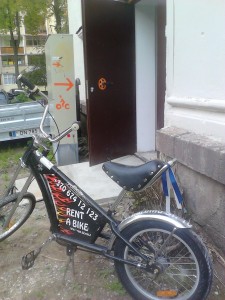 ---
---
---
---
Detalės / Used bike parts